A nurturing massage designed to help new mothers recover from childbirth, ease muscle tension, and restore energy levels.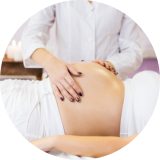 Specially designed for expectant mothers, this massage offers gentle relief from pregnancy-related discomfort while promoting relaxation and well-being. Performed after 12 weeks of pregnancy.
A classic relaxation massage using long, gentle strokes to improve circulation, relieve muscle tension, and promote overall well-being.